Aug 18 | GC Panel Networking Event: Financial Literacy, Abundance & Fun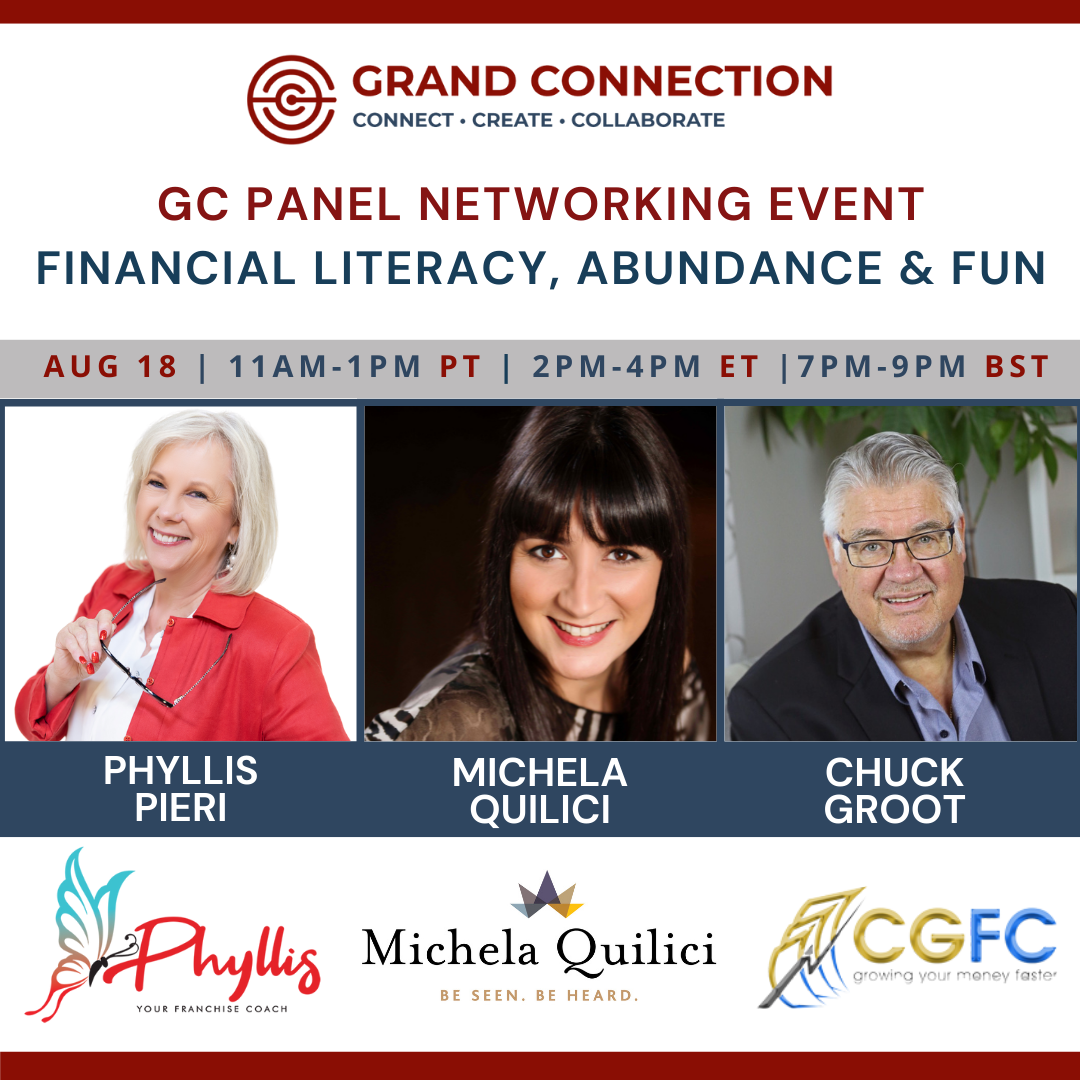 Is financial literacy important?
Knowing your numbers, and the trends helps you be more intentional about where you put your time and money.
Make decisions from the data. Look at trends and patterns. Grand decisions are made when you really know your numbers.
Date: Aug 18, 2022 (Thursday)
11:00 am – 1:00 pm PT Time Converter
2:00 pm – 4:00 pm ET
7:00 pm – 9:00 pm BST (UK)
Location: Free on Zoom (Please invite your friends, non-members may attend 2 Grand Connections for free.) Not yet a member? Join Today.
Agenda: Networking Breakouts, Expert Tips, and Fun!
MEET OUR PANEL MEMBERS:
Phyllis Pieri helps people find financial freedom through franchising. She is a franchise expert, speaker and International Bestselling Author. She uses her passion for people and her 35+ years in the franchise industry to guide fledgling entrepreneurs and investors through the franchise selection process.
Phyllis is a native Californian, spent 20 years in WA and then returned back home to Mission Viejo in 2019 to be "grammy." She has become very active with her local Chamber of Commerce in Mission Viejo and loves being of service. She is being invited to speak on more stages, working on another book and has her signature course, The Ultimate Franchise Formula.
Michela Quilici is an International business growth coach + award-winning marketing strategist. As a "Business Navigator" she has a gift for creating roadmaps that ignite leaders to take inspired action to navigate their growth on purpose using strategy, systems and self-leadership. Over the past 20 years, Michela has worked with CEOs and business owners to help them get noticed, get clients, and get profitable.
Features include: USA Weekly, Canadian Living Magazine, Profit Magazine, and numerous marketing and entrepreneurship awards. She is a member of the Forbes Coaches Council and Co-Author of three International bestselling books, Conscious Business and Voices of the 21st Century 3rd & 4th Editions.
Chuck Groot exhibits a rare and contagious enthusiasm for his profession. His infectious positive attitude leaves no room for the word "can't" or the word "problem;" everything that he and his clients set their minds to, can and will be achieved.
As an entrepreneur, his enthusiasm and innovative approach have garnered him both professional success and the recognition of his peers. But his greatest delight is being able to share these skills with others and enabling them to being successful on their own.
You Never Know Who You Will Meet!
Members have made many lasting relationships in the group that have turned into collaborative ventures, podcast interviews, partnerships, referral partners and good clients! The opportunity is to meet with like minded businesses to share skills, receive advice and collaborate! Strategic alliances are an essential part of succeeding in your grand adventure.
What to Expect:
The Grand Connection community is a welcoming group of like-minded businesses with a focus on Grand Giving. At our partner networking events we connect, create, and collaborate by practicing introductions in small breakout groups and share ideas on a common theme. Between each round, you will have the opportunity to meet experts who will share valuable tips to help your business grow. You will get many opportunities to meet new business owners and fine tune your 30 second pitch in this fun, lively, structured event on zoom. Please have your camera, good lighting and microphone available. Practice your short introduction ahead and have a short write-up prepared to share in the chat.
Not yet a member? Join Today.
Fill out the form below to join!